Send to Kindle
Do you ever wonder why things don't always seem to go the way you want them to, or why you seem to have such a difficult time recovering from some of the day to day circumstances in business and life that can hit you in the face at a moments notice? In the following post, Cheryl Vallejos, Author, Motivational Speaker, Certified Business Coach and Consultant, shares one of her success tips on the power of attitude.
The Power of Attitude
By Cheryl Vallejos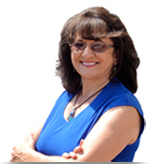 Having the right attitude can be extremely powerful. Your attitude makes all the difference in the results that you achieve in your life. Although you may set goals, take action, and expect positive results, it's not unusual for life to throw you a curve. The truth is that you don't always get to choose what shows up in your life. However, what separates those who succeed in reaching their goals from those who are not successful is attitude – which attitude is chosen to be used when life shows up.

Yes, attitude is a choice. Reactions to events and attitude are not automatic. If you've been on autopilot, just reacting to life instead of choosing how to respond, it's time to make a change.
One way to shift your attitude and expand the power of your mind is through affirmations. These positive statements of truth, when used on a consistent basis, can counter a negative attitude and habitual negative reactions. Reading, listening to and saying uplifting declarations will slowly shift your thoughts to those that are more productive and supportive, gently helping you to take control of your mind.
This month, I invite you to discover how affirmations can help you reclaim the power of positive attitude and change your life!
Want more profit and success in your business?
Cheryl Vallejos, Author, Motivational Speaker, Certified Business Coach and Consultant. Visit: www.PrimeLeaders.com for more articles and ways to improve leadership skills, business development tools and ways to increase profits. Vallejos is a resident of Heritage Highlands in Dove Mountain.
2004 © Cheryl Vallejos, Prime Leaders, [email protected]

Send to Kindle