The Journey From Where You Are to Where You Want to Be
by Cheryl Vallejos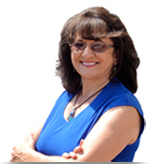 January has come and gone and you're into the second month of the New Year! Hopefully, you set your New Year's goals and now you're ready to see them begin to manifest. Your goals may include the areas of health, relationships, finances, business, family, and creative pursuits. You may want to build a thriving business and create a balanced life. But how do you get from where you are to where you want to be? So glad you asked. The quickest answer is: plan your work and work your plan. Every journey needs a strategy to get to where you want to go, whether it's a map, a marketing plan, or working with a coach or mentor.
There are proven methods used by highly successful people that help them achieve what they want in life. The most successful people-those who achieve the goals they set out to achieve and live fulfilling lives-demonstrate certain traits and actions. They are organized, disciplined, curious, open to learning and growing, fearless (or willing to act in spite of fear), positive-minded, and persistent. They take action, measure their results, and change course when necessary. Here is a 7-step winning formula for YOU to have a successful journey this year.

Let's start our journey together…
ATTITUDE – Develop a positive attitude and an attitude of gratitude every day. Your thoughts are powerful creators-what you think about most often manifests in the outer world. Learn to form habits of constructive thinking and supportive beliefs that will attract what you want. Successful people practice daily routines that keep their inner worlds pristine, such as meditation, affirmations, visualization, and empowering reading. Let your inner world work for you to bring you the results you so desire.
GOALS – Set your goals, write them down, read them every day, and visualize them as already accomplished. Follow the guidelines in the January e-zine for guidelines on highly effective goal-setting. [link]
PLAN – Write out a strategy, a plan of action for each goal. You need to get organized, learn how to manage your time to avoid getting stuck in overwhelm with too much to do, and stay on course to avoid being pulled away by distractions. It would serve you well to become disciplined, stay focused, and make a strong commitment to yourself that you will stick to your plan and do whatever is necessary to get to where you want to go.
EDUCATION – All successful people immerse themselves in ongoing education. Whether you prefer to learn from books, seminars, teleclasses, or one on one, there are probably many skills you could improve upon and several you may want to learn. How about brushing up on your time management tools, your communication and leadership skills, and your computer abilities? Learn to solve problems, make decisions, inspire confidence, and communicate with power and ease.
SUPPORT – Few people get to where they want to go alone. We all need a team. Assemble a winning team and you're halfway there. Make a list of who you would like on your success team. You might want to start with a coach or someone you can count on for ongoing support, feedback, guidance, and accountability. You might also want to include mentors, teachers, and service professionals (accountant, lawyer, computer technician, copywriter, etc.) you can call on to help you reach your goals. You do what you do best, so learn to delegate to others what they do best, and let them help you succeed!
ASSESS – Measure your progress and results from time to time to see if what you are doing is working. If not, see where you need to make adjustments. You may decide to abandon one goal if it's no longer meaningful to you. Or you may need to develop an alternative strategy when you meet challenges that stop you cold. Look for ways to work smarter, and make the necessary changes not only in the actions you take, but in the attitudes you hold. All the work you do on the outside will not succeed if not supported by empowering beliefs on the inside. Eliminate any negative thought patterns or work habits that may be sabotaging you. Success is an inside/outside journey and you want to feel fulfilled in both aspects.
CELEBRATE – You might notice I include this step often. It's because many of us get so caught up in the doing, and the getting, and the achieving, that we forget about the being. We need to sit still after an accomplishment and savor the feelings of success. We need to reward ourselves in nurturing ways and celebrate not only our results but our efforts. Just in moving toward your goals you are ahead of many people who simply write them out and then do nothing. Remember the rewards are in the journey as well as in the results. Enjoy the process and celebrate often.
GET STARTED NOW! There's an exciting new 6-month program designed to guide you to Building a Thriving Business and a Balanced Life-From the Inside Out. You will learn the inner and outer tools and techniques necessary to start, maintain, administer, market and build your business through its many phases, and have a balanced life at the same time. And you will receive support, encouragement, motivation, and answers to build a thriving business and balanced life-from the inside out.
For dates, times, and costs click here.
Getting support
A great way to move from where you are to where you want to be is with the support and guidance of a professional coach. To find out how a business/ life coach can help you build a thriving business and live a balanced life, contact [email protected] or call (520) 730-4456.
Cheryl Vallejos, author of "Injecting the Juice into Leadership" and "Low Carb Leadership", is a professional business leader, coach and consultant who works with clients to build their business and increase profits. Please visit www.PrimeLeaders.com for more articles, information, tips, and other great business-building benefits.
2006 Cheryl Vallejos, Prime Leaders Community

In business since 1991, Terry Green is the founder/CEO/President of BizEase Support Solutions, an American-based, online marketing support company comprised of a team of talented professionals from around North America. BizEase excels at providing speakers and business coaches worldwide with seamless online marketing solutions, from setting up shopping carts and editing video, to writing blog posts and managing Social Media and PR campaigns. BizEase clients (who span five continents) take great joy in allowing the BizEase team to take care of the details so they can get back to doing what they do best! Click here to get our weekly tips ezine delivered to your inbox every other Friday, with tips on plugins, apps, and tools to make you more productive today!