by Shannon Cherry
If you want to make money in your business, whether online or offline, there's one thing you need to have: a list.
Without it, your business won't grow so you need to create subscriber leads. These are leads to people who may be interested in buying your products and services.
You can gather leads automatically by creating your website in a way that requires everyone that visits sign up for your newsletter to give you their email address. While you can't force anyone to sign up, you can gently encourage him or her to sign up by showing him or her the benefits of doing so.
Let's review some of the most important steps you need to take to ensure you build a profitable list:
1. Make sure you put up a good landing page. A landing page is the webpage your prospects will land on and see your offer to get them on your list. It should be well-designed and professional looking. If you don't have any design skills then hire someone to do this for you.
2. Put a web form on your landing page and offer your customers the opportunity to opt-in to your mailing list. Give something away free to encourage them to opt in. Studies are now showing that asking for less information – just an email address – gets more prospects to sign up.
3. Make sure any freebies you give away are of the highest quality, because the subscribers on your list will judge the worthiness of your products and services based on the freebies they get. You want them to think, "Wow! If this person gives this away for free, imagine what I will get when I purchase something!"
4. Include a lot of professionally written content and interesting information for your visitors. Your customers will want to read interesting things and want to look for more than just a sales pitch. Content sites are a great way to build trust and loyalty. You can build a content site jam-packed with articles and helpful information, then link to your sales page from your content site.
5. Make sure you keep your customer's information private. If you tell your customer's you will not share his or her personal information, then don't share it with anyone. You will ruin your reputation, and word spreads fast on the Internet.
6. Take some time to try the product you offer yourself. Make sure it is something you consider worthy of buying. If you are selling a book you wrote, make sure it has mass appeal and will benefit the target audience you plan to market it to.
7. Provide top-notch customer service. This is THE number one way to stay ahead of the game. If your customers are happy and you resolve their questions and complaints, then you will win their loyalty and trust.
8. Reward customers that refer others to you. Show others you appreciate their recommendations to others. Besides affiliate commissions, send cards and added bonuses every so often.
9. A fast response makes prospects happy. Respond to your customer's complaints or inquiries immediately, with the goal in mind always being to satisfy your customer.
1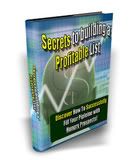 0. Remain truthful and honest in all you do. A customer will sniff out a scam faster than a dog will a bone. Don't lie, don't trick and don't steal. Be honest and be who you are, and you will do well working on the Web and building your opt-in list.
Want more ideas to build your list?
Check out my new free ebook, Secrets to Building a Profitable List and free tips at http://www.discovereasylistbuilding.com/
Shannon Cherry, APR, MA, is the Power Publicist. She helps entrepreneurs, coaches, consultants and other professionals attract more clients and customers by harnessing the power of public relations and marketing. Get your FREE publicity power pack by visiting http://www.beheardsolutions.com.
© 2009, Shannon Cherry, APR, MA & Cherry Communications Corp.

In business since 1991, Terry Green is the founder/CEO/President of BizEase Support Solutions, an American-based, online marketing support company comprised of a team of talented professionals from around North America. BizEase excels at providing speakers and business coaches worldwide with seamless online marketing solutions, from setting up ecommerce solutions, membership sites, web design and maintenance, to writing blog posts and managing Social Media and PR campaigns. BizEase clients (who span five continents) take great joy in allowing the BizEase team to take care of the details so they can get back to doing what they do best! Click here to get our bi-weekly tips ezine delivered to your inbox every other Friday, with tips on plugins, apps, and tools to make you more productive today!