by Fern Reiss, CEO, PublishingGame.com/Expertizing.com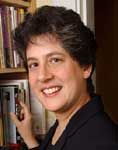 If you're heading off to Book Expo America this month, you already know that it's the largest book trade event held in the U.S. and second only to the Frankfurt Book Fair internationally. And whether you're exhibiting a self-published book at the show, signing autographs in your publisher's booth, or just planning to walk the floor, you can make it a more profitable experience. Here's how:

Book other gigs
If you're shelling out all the money to get to BEA (in NYC this year), you should add in a revenue-enhancing event to the financial drain that BEA would otherwise be. Announce a workshop or seminar on a topic of interest to your readers, or pull together a group of authors to run an event. Then, rather than coming out financially behind as a result of BEA, you'll have a chance of breaking even.
Bring a publicity gimmick
If you don't have a gimmick, nobody's going to visit your booth. And the better your gimmick is, the better your chance that Publishers Weekly or a roaming journalist from a national magazine will mention you in their coverage. So come up with a clever tie-in to your book, whether it is a give-away or a booth attraction. After our consultation on BEA, one of my clients, for example, decided to feature trampolines in her booth (to promote her book "Alex and the Trampoline") and a live (mini) crocodile (for her children's book, "The Crocodile Song"). Both should do well in attracting journalists (and the public.)
If you're taking a booth, take a real booth
Many small publishers end up succumbing to the urge to take a booth at Book Expo. But because they're short on cash, they opt for the (significantly cheaper) Small Press section. Don't do it: If you're going to take a booth, take a booth on the main floor. If you don't want to spring for it, wait for another year. The small press section is usually up several flights in an area where you need to bring your own oxygen mask; nobody except small press vendors walks through this space. My client (with the trampolines and alligator) took a booth on the main floor, 'right up the aisle from Scholastic.' That gives her not only great visibility, but also great credibility.

Network, network, network
You can always buy tapes of the program at conferences; what you can't bring home are the one-on-one interactions with attendees. So plan to buy the tapes, and spend your valuable time at the show walking the floor and talking to participants, vendors, and the press.
Food—bring your own
Consider bringing your own food. Food lines at BEA are long and tedious; the food at the end is expensive and ho-hum. Instead, pack bags of raisins and munchies for quick energy while walking the floor; for lunch, consider buying a take-out gourmet picnic in advance and inviting that person who you'd love to get to know better to join you. (Bringing iced Starbucks in and schmoozing with those desirable people at their booths can also be effective.)
Use the BEA amenities
It can be a tiring show, so use the BEA-provided amenities. Attendee shipping offers boxes for mailing your books home; there's no reason you can't also use your boxes to store your raincoat, extra flyers, and lunch. If you have an appointment at the Rights Center, they usually have cubbyholes for storage, and that's an even more convenient drop-off for leaving your stuff.
Plan your time strategically
You should be armed with a list of important people you want to make contact with. Schedule your appointments strategically. Allocate at least the first two hours of the first day to wandering and collecting galleys; nobody will want to meet with you during that time anyway, because that's what all the show veterans are doing. Try to make lunch appointments with people you really want to spend time with; it's a waste of your valuable time to spend two hours standing in line and eating with someone for whom a two minute 'run past the booth' visit would have sufficed.
And be sure you allot plenty of time for standing in the coffee line and chatting with random strangers: The serendipity at BEA is amazing, and you're sure to bump into someone that can change the course of your career, if you're open to it.
If your BEA strategy still needs polishing, call Fern for a one-on-one consultation: http://www.PublishingGame.com/consulting.htm. Fern Reiss, CEO of PublishingGame.com/Expertizing.com, is the author of The Publishing Game: Bestseller in 30 Days (book promotion), The Publishing Game: Find an Agent in 30 Days (traditional publishing), and The Publishing Game: Publish a Book in 30 Days (self-publishing). You can sign up for a BEA consultation with her at http://www.PublishingGame.com/consulting.htm

Send to Kindle
In business since 1991, Terry Green is the founder/CEO/President of BizEase Support Solutions, an American-based, online marketing support company comprised of a team of talented professionals from around North America. BizEase excels at providing speakers and business coaches worldwide with seamless online marketing solutions, from setting up shopping carts and editing video, to writing blog posts and managing Social Media and PR campaigns. BizEase clients (who span five continents) take great joy in allowing the BizEase team to take care of the details so they can get back to doing what they do best! Click here to get our weekly tips ezine delivered to your inbox every Friday, with tips on plugins, apps, and tools to make you more productive today!