Laugh Track
by Naomi Karten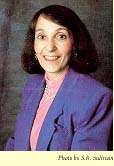 Sometimes things are not what they seem. Take the case of a company in which I was helping two technical support groups work together more amicably. One group provided first level support to the company's business departments. The other group provided second level support; the problems they handled were fewer in number but greater in complexity than those of the Level One group. A spirit of cooperation was essential to their ability to serve customers effectively, yet that spirit was severely lacking.

During a session with the two groups, a situation came to light that had been troubling the Level One group: It seems that Level One staff automatically escalated to Level Two certain complex problems that caused serious disruption to customers and required immediate attention. Level One staff members then periodically dropped by the Level Two's work area to check on the status of the resolution.
Laugh it up
And when they dropped by, what did they find the Level Two staff doing? Laughing. Laughing! Customers were unable to do their work, and the people in charge of fixing the problem were joking, kidding, giggling, having a good old time, and not taking the problem seriously at all.
I asked the Level Two group: What do you make of this description you've just heard? Their initial reaction was one of surprise. Then they explained: The Level One team has misread the situation. In fact, they said, we take such situations extremely seriously. And that's what our laughter is about. These situations are stressful, and when we're under stress, the way we let off steam is to laugh. It's a way to relieve tension. But our laughing doesn't mean we're not giving the problem our full attention. Just the opposite; it helps to relax us and lets us be more productive.
Behave yourself!
Surfacing this misunderstanding and getting past it was a relief to both groups, and it led to an interesting question: Should Level Two staff adopt dour demeanors when working on top priority problems? The Level One staff now saw the situation differently and thought not. Once they recognized their misinterpretation of the Level Two behavior and understood what was behind the laughter, they saw no problem with it.
But the Level Two staff now saw the situation differently as well. Laughing is fine, they concluded, but they needed to be more sensitive to how such behavior might look to others. They decided that when anyone else is around, they'd be wise to avoid uproarious laughter or any other frivolous behavior, particularly when they were working on urgent problems.
How easy it is to misinterpret the behavior of others. How hard it is to remember that people are forming impressions of us all the time, even when we don't know they're watching. Indeed, how quickly such things can become no laughing matter.
Copyright © 2003 Karten Associates. Naomi Karten is a professional speaker and author, who presents seminars, presentations and consulting to help organizations improve customer satisfaction, strengthen teamwork and manage change. 781-986- 8148, www.nkarten.com

In business since 1991, Terry Green is the founder/CEO/President of BizEase Support Solutions, an American-based, online marketing support company comprised of a team of talented professionals from around North America. BizEase excels at providing speakers and business coaches worldwide with seamless online marketing solutions, from setting up shopping carts and editing video, to writing blog posts and managing Social Media and PR campaigns. BizEase clients (who span five continents) take great joy in allowing the BizEase team to take care of the details so they can get back to doing what they do best! Click here to get our weekly tips ezine delivered to your inbox every other Friday, with tips on plugins, apps, and tools to make you more productive today!