The Boomerang Publicity Effect
by Fern Reiss, CEO, PublishingGame.com/Expertizing.com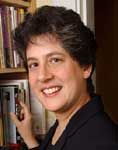 This week, I received email from a top literary agent informing me that my Publishing Game books are going to be featured in her forthcoming book—which is already a bookclub selection and will be displayed in a Barnes and Noble endcap for two months. Will this help my own book sales? You bet. And being mentioned in other people's books is just one way to generate attention for your own book. Here are a few more:
Write a series. Writing one book is good, but writing a series is always better. If you can figure out a way to slice and dice your topic, you can come out with a series of books on the same topic—thus enhancing your credibility. And the more shelf space you have in a bookstore, the more people are prepared to believe in your expertise. When someone goes to a bookstore, and of the ten books on the publishing shelf, three are my Publishing Game books—which book do you think they're most likely to buy?
[Read more…]
In business since 1991, Terry Green is the founder/CEO/President of BizEase Support Solutions, an American-based, online marketing support company comprised of a team of talented professionals from around North America. BizEase excels at providing speakers and business coaches worldwide with seamless online marketing solutions, from setting up ecommerce solutions, membership sites, web design and maintenance, to writing blog posts and managing Social Media and PR campaigns. BizEase clients (who span five continents) take great joy in allowing the BizEase team to take care of the details so they can get back to doing what they do best! Click here to get our bi-weekly tips ezine delivered to your inbox every other Friday, with tips on plugins, apps, and tools to make you more productive today!